Case Studies
Communal Stairs
Protecting the students of Liverpool: HOPE STREET STUDENT ACCOMMODATION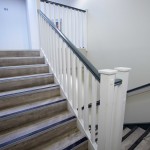 JELD-WEN, the leading manufacturer of timber windows, doors and stairs was chosen to supply fire protected timber stairs for a pioneering student accommodation development in Liverpool.
The Hope Street site was a former 1867 hospital which was previously demolished and has now seen one of the biggest development projects delivered in Liverpool's historic Georgian Quarter.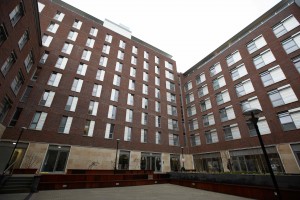 The site (left) consists of a 339 bedroom, mixed use development of 10,000 sqm. It includes apartments and accessible studios complete with fully fitted kitchens and ensuite bathrooms, all within a purpose built student centre including a gym, bars and restaurants.
The build itself was of particular significance with a volumetric construction system being used, which is not usually available in the UK. Each building was constructed with highly insulated, FSC/PEFC certificated timber frame modules which were manufactured and delivered on site fully fitted, decorated to a high standard and ready wired and plumbed for all services. The stairwells were created by the walls of each module converging to create a rectangular shaft through the building where the stairs could later be installed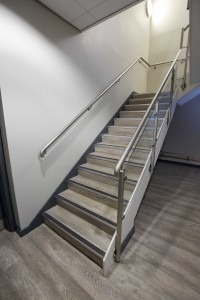 The importance of this choice of construction method being that it reduces the build time by 30% compared to traditional methods, which allowed the accommodation to be ready in time for the September 2015 intake of students.
Timber stairs were specified for all residential levels, but it was crucial that these were fire protected communal stairs due to the multi-occupancy nature of the building.  JELD-WEN is the first and only volume UK timber stairs manufacturer to be certified by the BRE Loss Prevention Certification Board (LPCB) for fire-protected timber stairs through the BWF Stair Scheme. The LPCB tests and verifies designs, performance, manufacturing process and quality assurance throughout manufacture to establish whether the timber stairs are serviceable and an effective means of escape, even after an extremely hazardous fire.
In addition, JELD-WEN also faced the challenge that the stairs supplied were for a seven storey building which is higher than normally specified for timber stairs.
Roy Anderson, Technical Manager at JELD-WEN stairs said: "Despite the challenging nature of this project, The Hope Street development was a fantastic project to be a part of. Our team at JELD-WEN stairs worked closely with building control to ensure that the stairs we supplied would meet the Building Regulations with flying colours."
Hannah Mansell, manager of the BWF Stair Scheme, says:
"The specification of BWF Stair Scheme accredited stairs was a wise move in this challenging and innovative build. The scheme promotes effective design and reliable manufacture, developing guidance where standards and regulations are in conflict, and ensuring best practice advice is passed to installers to reassure that such products consistently meet the relevant performance requirements for loading, deflection and fire resistance where needed.
"The standard expected of BWF Stair Scheme members for their stairs is extremely high to ensure quality and safety. There is no straightforward method for Building Control to verify that a stair has been manufactured correctly and complies with the relevant standards and Building Regulations, other than looking for the Stair Scheme badge.
"The increasing use of timber stairs in multi-storey, multi-occupancy buildings such as this student accommodation project brings this into sharp focus. If a stair failed during an emergency evacuation, the consequences would be devastating. The common flight stair may act as one of the routes of escape in the event of fire. So it is vital that it is able to resist the effects of the fire and maintain its integrity. This demands a higher level of accreditation, which JELD-WEN has achieved through rigorous product development and testing."
Fire Protected Stairs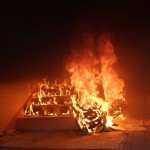 In medium-rise buildings, the common flight stair may act as one of the routes of escape in the event of fire yielding serious implications of this for the safety of the occupants of the building and the emergency rescue services.
BWF Stair Scheme Member, JELD-WEN, was been awarded Best Internal/Interior Product for its fire-protected stairs at the Housebuilder Product Awards 2013.The inaugural Awards, which showcase and reward excellence and innovation amongst suppliers to the UK housebuilding industry, were presented at a special event at Edgbaston Stadium in Birmingham on Thursday 20 June, by columnist, author and former England Cricketer Ed Smith.
JELD-WEN is the first and only UK timber stairs manufacturer to be certified by the Loss Prevention Certification Board (LPCB) for fire-protected timber stairs through the BWF Stair Scheme.
JELD-WEN developed its LPCB Certified fire-protected stair range by working with the British Woodworking Federation (BWF) and the BRE and undertook an extensive test programme. As a supplier of these products, JELD-WEN is authorised to label its stairs with the instantly recognisable LPCB 'horseshoe' mark alongside the new BWF "badge".
These certifications not only demonstrate that the stair is not consumed in a fire, but also that JELD-WEN's fire-protected stairs maintain their normal function after a fire event within the stair enclosure.  One test requirement, following the actual fire test, is that the stair will still carry a large static load, confirming its functionality as an escape stair.
Tony Baker at the BRE/LPCB said: "This certification is about giving specifiers and developers more confidence about products that meet fire protection requirements.  They should be in no doubt now that JELD-WEN's timber stairs can be specified for low and medium rise blocks, and that they help minimise fire risks in the buildings they are designing, specifying or managing."
Phil Chimento, JELD-WEN General Manager – Stairs, said: "The Award is fantastic recognition of our efforts to ensure that our stairs meet and exceed regulatory standards. We're always looking at how we can improve our product range to provide a better service for our customers and this Award is a firm step in the right direction."
Become a Stair
Scheme Member
Find a Stair Scheme Member