Stair Installation
Installation of a staircase is critical and even a well designed staircase may cause problems if incorrectly installed.
The BWF Stair Scheme Five Steps to Stair Success.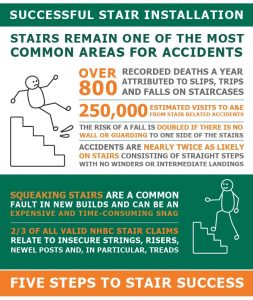 The BWF Stair Scheme Installation Guide is intended to provide general information about installing timber staircases, focusing on key areas to ensure that the stairs are safe to use and not compromised by poor practice. The members of the BWF Stair Scheme design and manufacture their stairs so that they will support the necessary loads in both the flights and the balustrades, but poor installation can cause the stability of the stair to be reduced, possibly leading to premature failure of components and ultimately the collapse of the stair.
The installation process itself has inherent risks and care should be taken to adequately support the stair until all the necessary fixings to the surrounding structure are in place.   No stair should be used for access until its full load bearing capacity has been achieved and it is securely fixed in place.
The guide has had strong support from the house building sector:
An effective installation process starts before the staircase arrives on site and any procurement process can start to instil the right principles from the outset.  To support the procurement team BWF Stair Scheme Members have also produced 'Timber Staircases, A Procurement Guide for Housebuilders'.
At the end of the process, it is often the Site Manager who will sign off the staircase, the following checklist is a useful support for any site manager 'Timber Staircases, The Site Manager's Checklist'
Free downloads:
The BWF Stair Scheme's Top Ten Tips on installing a staircase
Full BWF Stair Scheme Installation Guide
Infographic covering the five steps to stair success
Timber Staircases, A Procurement Guide for Housebuilders'
Become a Stair
Scheme Member
Find a Stair Scheme Member